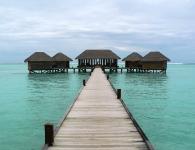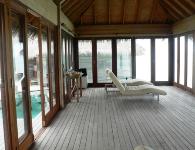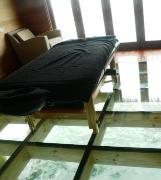 Spoiling Myself
at the Spas...

Heading out to the Over-Water Spa.

The relaxation area.

Check out the scenery below.

August 24, 2006


I am only here for a few days so my philosophy is that I may as well live it up. The very first thing I even did when I entered
my villa was to pick up the different 'menus' at the two different spas at the resort. I felt it was my duty as a guest here to
have a treatment at each one as they both would provide a different experience. I found the treatments I wanted and called
right away to reserve my spot.


August 25, 2006


Treatment #1: Aromatherapy Massage at the Over-Water Spa


This was the spa that I was
really
looking forward to. While many spas might add a nice touch and have you look down at…let's
say…a flower, this spa would need no such thing. After all, why would it when it has a glass floor that looks down onto the
ocean? While getting rubbed up and down with soothing oils for an hour, I was looking down at fishies of all kinds: spotted ones,
striped ones, colorful ones, translucent ones. But the Grand Pooh-Bahs would be the baby sharks that swam by. Talk about an
hour going by way too quickly. But all great things must end. I decided to push it out a bit longer by heading to the relaxation
lounge that was on stilts in the ocean. As I sipped my tea, I took in the 360-degree views of the water.


August 26, 2006


Treatment #2: Thai Fruit Wrap at The Spa Retreat


The Spa Retreat was quite different than the Over-Water Spa. The relaxation area felt similar to one I would find at home. I
was taken to a treatment room that sat on stilts in the ocean. I had opted for a Thai fruit wrap at this spa. When I saw it on the
'menu', I could not pass it up (being the sucker for fruit that I am). When I entered the treatment room, I immediately
realized something. On the table was a large silver-foil looking sheet. It was only then that I processed the word 'wrap'. For
some reason my brain was more focused on the 'fruit' part of the name rather than the 'wrap' when I booked this. While this
may not be a big deal to most people, the idea of being wrapped up in foil to an irrational claustrophobic girl gets the heart rate
pumping a little bit faster. I only had one choice and that was to suck it up and relax. I literally used some breathing and
focusing techniques that I learned in my Indian yoga class (how New-Age am I!?!) which made for an extremely relaxing and
pleasurable hour. Sure I felt like one of those foiled hot dogs that you find at a baseball game but I was okay with this. After I
got de-wrapped, I headed to the outdoor shower. This one was different than the one that was in my room as I was standing
above the ocean with views of the water all around me.

If I had to make a choice, I would opt for the Over-Water Spa simply because how many places can you look beneath you and
watch the ocean? The relaxation lounge in the Over-Water Spa wins my vote as well because…let's face it…what is more
relaxing than looking out and having the ocean completely surrounding you???