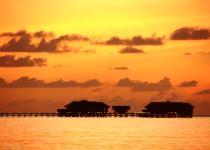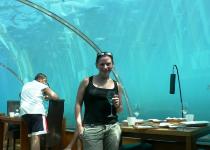 Ringing in the
Big 3-0...

Putting a few drinks back..

Finally...a sunset!

Enjoying a drink during the day.

August 26, 2006


Happy birthday to me,
Happy birthday to me,
Happy birthday dear me-eee
Happy birthday to me.

First of all, I would like to thank the Maldives Sun Gods as they clearly wanted to make this a great day for me. It has been
slightly overcast since I arrived a couple days ago – one night there were even rain storms – but not today. Today would be as
sunny as could be. So a big 'shout out' goes to them, whoever they may be…

Secondly, I need to send a few more 'thanks' out…

Thank you to Michelle and Clarke – You guys rock! It was so nice checking into the hotel and receiving the gift from you guys.
You know it was put to great use.

Thank you to 'the girls' at home – Ari, Annette, Jenna, Annie, Kellie and Heather. It was such a fun surprise to find a piece of
'mail' in my mailbox this afternoon. It goes without saying that those spa treatments went to good use!

I was already having a wonderful birthday and all of you managed to make it even
better
. I did not even think it was possible!

Now, back to being out here for my birthday…

I truly can not think of a better way to ring in the next year of my life. Excuse me…the next
decade
of my life. In an attempt to
not sound like an anti-social freak, it did not even bother me that I was going to be by myself on this day. Would I have liked to
have had people here with me? Of course. But did it bother me that nobody was? Not in the slightest. Part of the reason may
be that I have never been one to make a huge deal out of my birthday. Some people will do a daily countdown to everyone
around them once the one-month point hits. While that route might work for them, I always just fear that if I make too big of a
deal out of a birthday it will be a big let-down. I also know that some of my friends have to watch their spending and it is
always an awkward moment when the bill comes and you have to watch people do the calculations. You know that for some of
your friends, it is no big deal. But then to others, they will have to forgo other things that month because of this night out. Being
out here made it so that I didn't have to deal with any of these issues. Yet another thing to smile about...

So what did I do on my first day of stepping into my 'thirties'??? Well, I was just about to get to that…


I woke up early and did the sunrise snorkeling. I will have to say that the fish and reefs I saw this morning were even


better than what I saw when I went diving in Seychelles. I saw a giant manta

ray

and a spotted eagle ray…in addition to


tons

of cool fish. When we were done, they had picnic breakfasts (complete with bagels with lox and a tropical fruit salad)
waiting for us. The best part, though, was when we were back in the boat and spotted dolphins in the distance. We made


our way to them and they literally were swimming right next to our boat.



I took a 'dhoni' ride (the type of boat that they have out here) to the other island and back. What can I say…I'm a sucker


for a boat ride.



I did a cheese and wine pairing. Oh my gosh – my love for cheese and wine has only intensified after being here. Because
it's a communal table, I met some great people there. This was the same place where I met a few different couples on my
first night here. It is perfect for a person who is here on their own. I enjoy reading during breakfasts and lunches. But at
dinner time, conversation is always very appreciated and I would easily find that here. The sommelier for the other wine
restaurant was there and when she found out it was my birthday, she brought over a glass of champagne for me. Too


sweet!



After dinner I met up with Marc and Kyla. I originally met them on my first day since we all came in on the same
seaplane. I ran into them earlier today and we all decided to meet up later on to get a drink. When I saw them, Hayley
and Owen (a couple I met during my first time to the wine/cheese bar) were sitting with them. It turned out that they
met each other earlier today. We all just sat and drank and talked and drank…and then drank some more. The end of the


night would take us onto the dance floor

where Owen surprised me by requesting some of the songs that I had


mentioned I was hoping were going to be played

.




I am typing this while still feeling the effects of the many birthday drinks from last night. There are only three hours left until I
have to check out of heaven…I mean my resort. This makes me sad.
Very
sad. The song 'Time to Say Good-Bye' by Andrea
Bocelli is what comes to mind. That song is so beautiful but it always makes me a bit sad. Now that it is 'time for me to say
good-bye' I am really sad. Why does this have to end? Booo. I also just realized that I just said the word 'sad' quite a bit. My
brain is working slowly and is having a hard time coming up with another word to use in its place. Sad, huh?

As a final note, I just have to say that my birthday was the best ever. Just when I thought it was as good as it could be, I would
be mistaken as something would come along that would make it that much better. I came here thinking I was going to be
spending three days on my own; I am now leaving here with a handful of friends. Even more of a reason to love my Maldivian
experience…